Our Team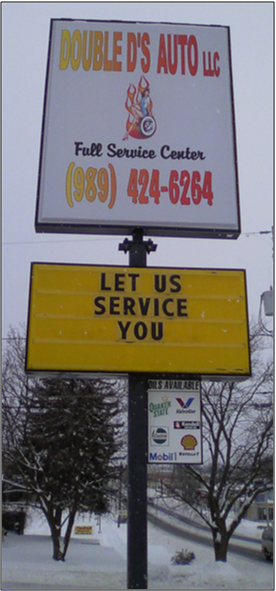 Double D's Auto Service Center was established in 2009 by co-owners Don Maurer and Don Carr. Initially, Double D's offered general vehicle maintenance and repair services, but in 2011, they expanded to include instant oil change service as well.

In the repair center we have four technicians:

Don Maurer is a veteran of the U.S. Marine Corps (retired), as well as a ASE and State of Michigan Master Automobile Technician with over 19 years of experience including time as an instructor in Automotive Technology at the Mt. Pleasant Area Technical Center.

Don Carr is a State of Michigan certified Automotive Technician with over 25 years of experience.

Tracy Miesler is shop Manager/Service writer.

In our Full Service Center we have two personnel:

James Damon and Dave Davis are all available to take care of all your Oil Change and service needs.